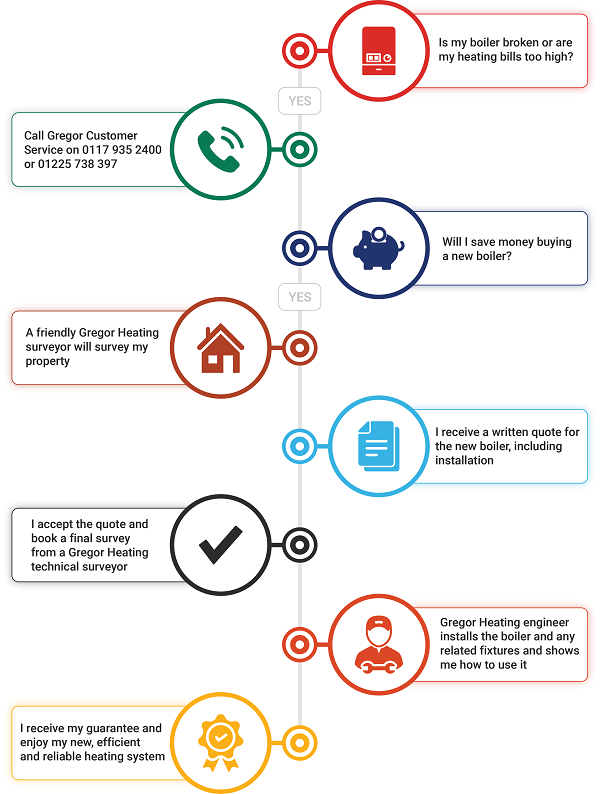 How to get a new boiler installation through Gregor Heating
Obtaining a quotation from Gregor Heating is easy!
Just contact one of our friendly Customer Service Advisors on 0117 935 2400 or 01225 738 397, or email [email protected], to arrange a free, no-obligation initial survey and quotation.
Alternatively, you can complete our contact form, and we will be in touch.
At Gregor Heating, we believe it is best to come to your property and discuss your needs face-to-face, developing an understanding of your property and how you use it, in order to ensure that we come up with the right solution for your needs and that there are no unexpected surprises along the way.Surveys can be arranged at a time that suits you, and we are able to offer appointments from 8 a.m. to 6 p.m., Monday to Friday.
As part of our initial survey, one of our experienced technical surveyors will visit your home to discuss your requirements and review your existing installation, designing a system to suit your personal needs. The survey could take anything up to an hour to provide us with key background information.
Following our survey, we will provide you with a detailed written quotation based on the installation that we have agreed best meets your needs. Quotations are valid for a period of 90 days from the date of issue.
One of our friendly Customer Service Advisors will be happy to discuss your quotation with you, should you have any questions.
You can indicate your acceptance of your quotation by phoning our office.
We will then issue you with an acceptance letter to be signed and returned. Alternatively, you can email a copy of the signed acceptance form to your Customer Service Team contact.
Flexible payment options are available, including interest-free finance and interest-bearing credit.Eligible customers can access a competitively priced regular payment plan for selected Worcester boilers and spread the cost of their investment in a new boiler through a series of more manageable monthly payments over 1, 3, 5, 8 or 10 years.
For full details, please see our dedicated Flexible Payment Solutions page.
Once you have accepted a quotation from us, we will then agree with you the dates of your final survey and the installation itself.
A typical boiler replacement takes a day, and a system conversion upgrade 2-3 days.  All our installations are carried out by our experienced Gas Safe registered engineers (OFTEC-registered in the case of an oil boiler); and all electrical work is carried out by our NICEIC-registered electricians.At the start of your installation, your engineer will talk you through the planned works and discuss any concerns you may have. We will put down dust sheets and take every care to ensure your home is safe and well looked-after.
Having completed the installation, we will commission, test and certify your new installation. We will also carefully talk you through your new boiler's controls and how to operate it in the most efficient way.  Prior to leaving, we will clear up, vacuum, and leave your home as we found it. We will also leave you with our comprehensive Customer Care Pack that includes operating instructions for your boiler.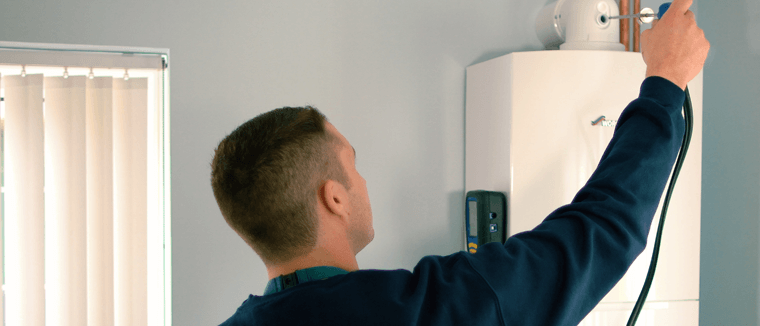 All rubbish and redundant items will be cleared on the final day of your installation. We only use licensed local waste removal companies.
Please click on this link for frequently asked questions about the installation process.
Once the installation is complete, we will register the boiler with Gas Safe (OFTEC in the case of an oil boiler) and the manufacturer to ensure the validity of its warranty. You will receive registration certificates from Gas Safe (OFTEC if an oil boiler) and the manufacturer direct to your address.
We will then send you your final invoice, along with a customer questionnaire. We highly value the feedback we receive from our customers; and our questionnaire gives you the opportunity to rate us and make any comments on your customer experience. Also, should you recommend us to a friend for whom we subsequently carry out an installation, we will reward you with a £20.00 Marks and Spencer voucher as a token of our appreciation for your loyalty.
Looking to get a new boiler in the Bristol and Bath region? Call Gregor today on 0117 935 2400 or 01225 738 397 to speak with one of our friendly heating customer service advisors, and to book your free, no-obligation survey.
Gregor
– your friendly local expert heating engineers for over 30 years.