Do you know the different types of boilers available for hot water and central heating? Are you confused by all the options for your home or unsure whether or not you need a boiler with a tank?
Here is our Gregor Heating Boiler Guide to help you understand the different options to suit your needs!
Types of boiler
Before purchasing a new boiler, it is important to know about the three main types and how they work:
Combi
Regular / Conventional
System
The size, type and make of boiler can all affect how much energy you use and how your home and hot water is heated – which can ultimately impact your energy bills and the smooth running of your home.
For each type, there is also a variety of fuel sources available: chiefly gas, oil, and liquefied petroleum gas (lpg for short).
Because mains gas is cheaper, oil is typically the choice of those who live without a gas supply, although we are seeing a massive increase in the rise of using renewable technologies such as Heatpumps etc. – please click here to find out more.
Whatever your new boiler needs, call Gregor Heating today on 0117 935 2400 or 01225 738 397 for some sound advice and to book a free survey and no-obligation quotation.
Combination or Combi Boilers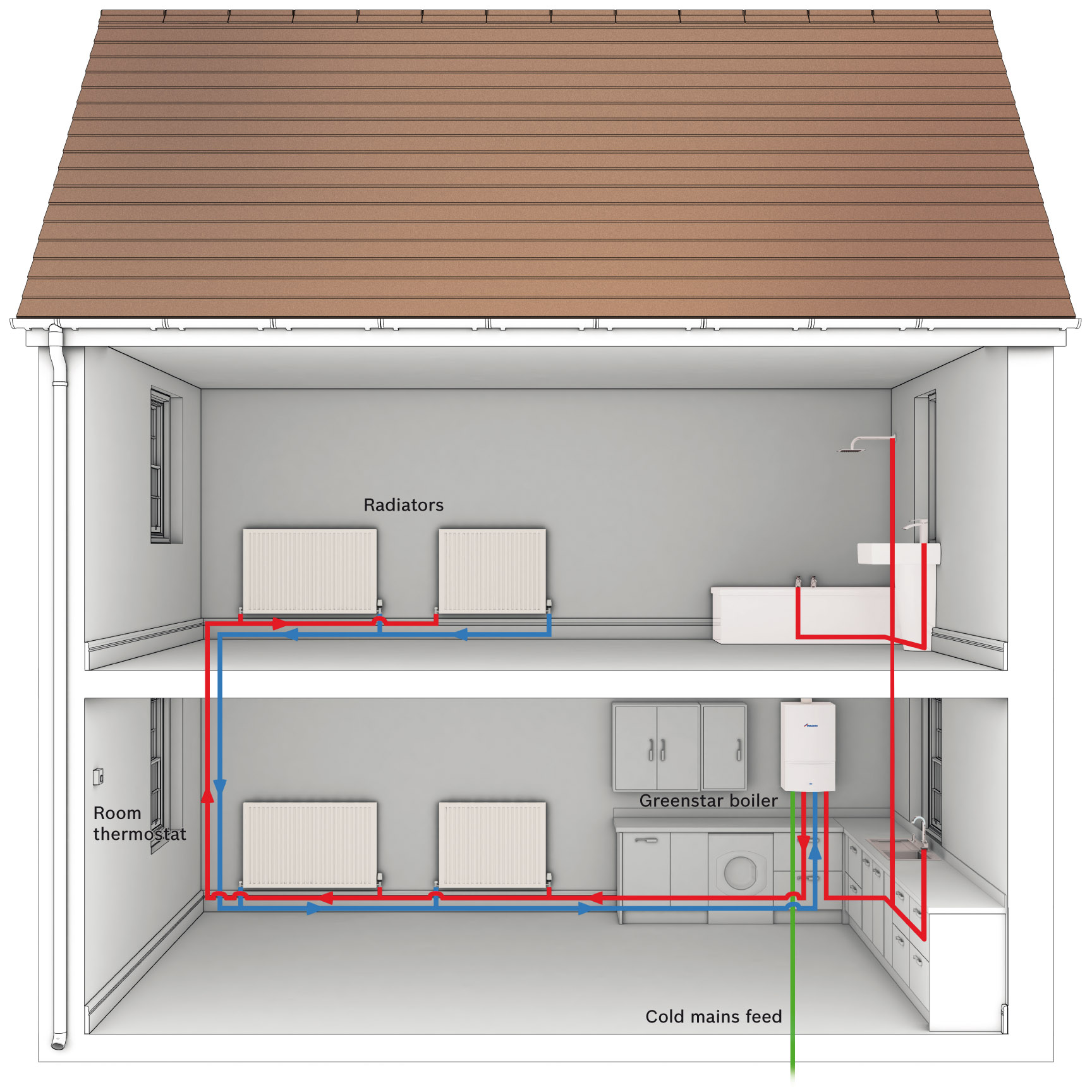 Combi boilers are the Uk's most popular boiler type, only heating the water in your central heating system when you use it, which means they are also very cost-effective
Benefits of Combi Boilers
The benefits of a combi boiler are:
Energy efficiency is a major advantage: since you only use the hot water you need, you don't unnecessarily heat a whole tank of water
Efficient use of space is a second advantage. A combi saves on space, as you don't need the hot water tank, feed tank and expansion cistern that are required with some other types of boiler. So it is great if you live in a smaller house or flat.
Time-efficiency is a third advantage of the combi design: you don't need to wait for the hot water in a tank to heat up. You get unlimited hot water whenever you need it because it's straight from the mains.
Please Note:
The combi design suits properties with a decent mains pressure
If you use more than one tap at a time, it could reduce the flow of hot water.
Gregor Heating supplies and installs a wide range of high-efficiency gas-fired and oil-fired combi boilers every day throughout Bath, Bristol and the surrounding areas.
If you need a new combi boiler, call us on 0117 935 2400 or 01225 738 397 to book a free survey and no-obligation quotation.
Regular Boilers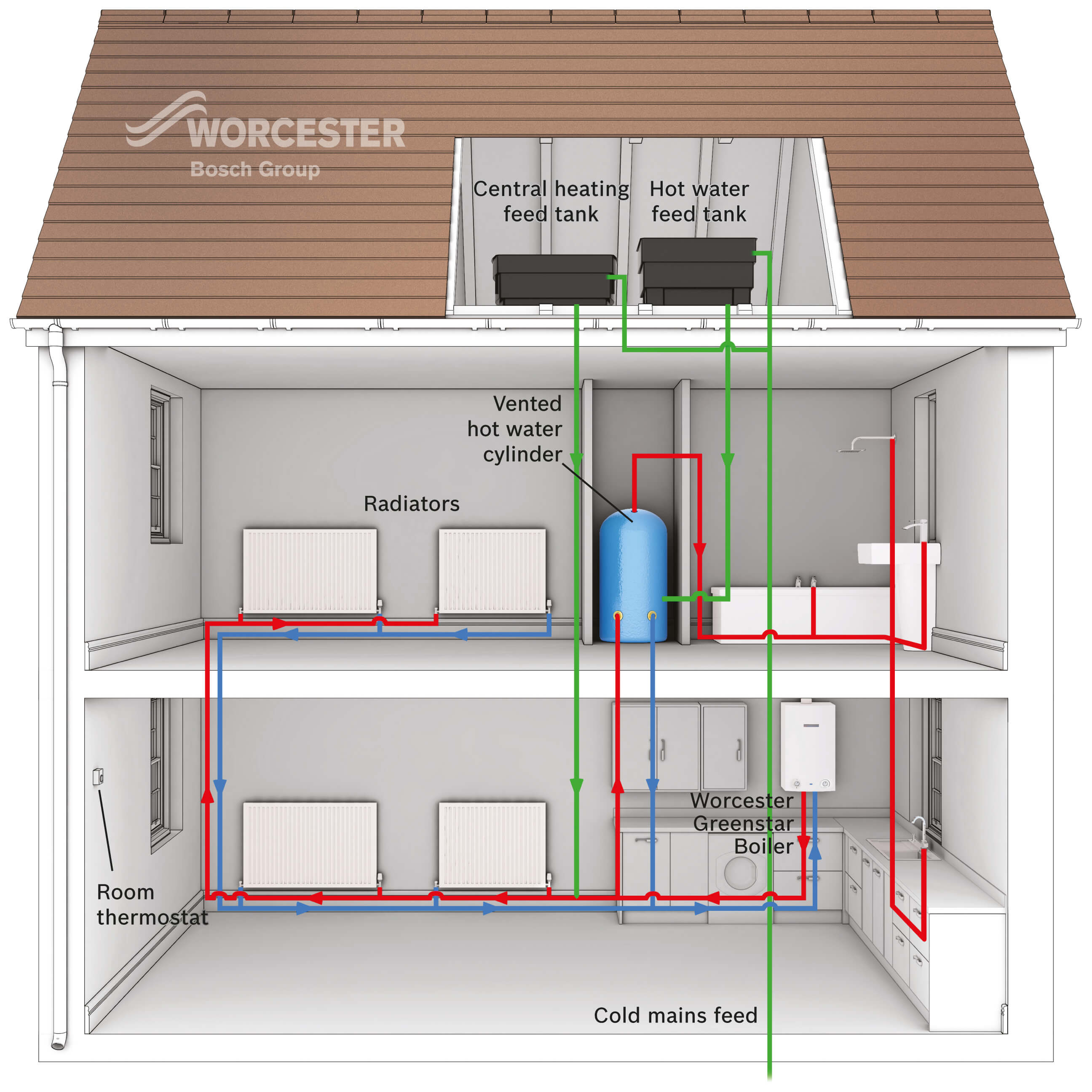 A regular boiler sends hot water to your radiators and a hot water cylinder, also known as a hot water tank. Water is fed by gravity into the cylinder from a cold water storage tank, known as a feed tank, which has to be located above it, and is usually found either in a cupboard or in the attic or loft space.
Benefits of Regular Boilers
If you have a busy home environment, the system can send water to lots of taps at the same time, without the flow of water getting weaker
Having a separate hot water tank facilitates solar thermal energy storage for households with solar panels
Regular boilers typically suit:
Larger homes that have more than one bathroom
Families with a higher demand for hot water
Properties with lower mains pressure
We can also fit an electrical immersion heater to the hot water cylinder at the time of your installation, to ensure you have a back-up, just in case your boiler breaks down.
A regular boiler is often a practical choice, and suits people / families with a higher demand for hot water, living in a larger property, and those with a lower mains pressure.
Gregor Heating regularly supplies and installs a high-quality selection of reliable gas-fired and oil-fired regular boilers to customers who request them throughout the Bristol and Bath area.
If you need a new regular boiler, call us on 0117 935 2400 or 01225 738 397 to book a free survey and no-obligation quotation.
System Boilers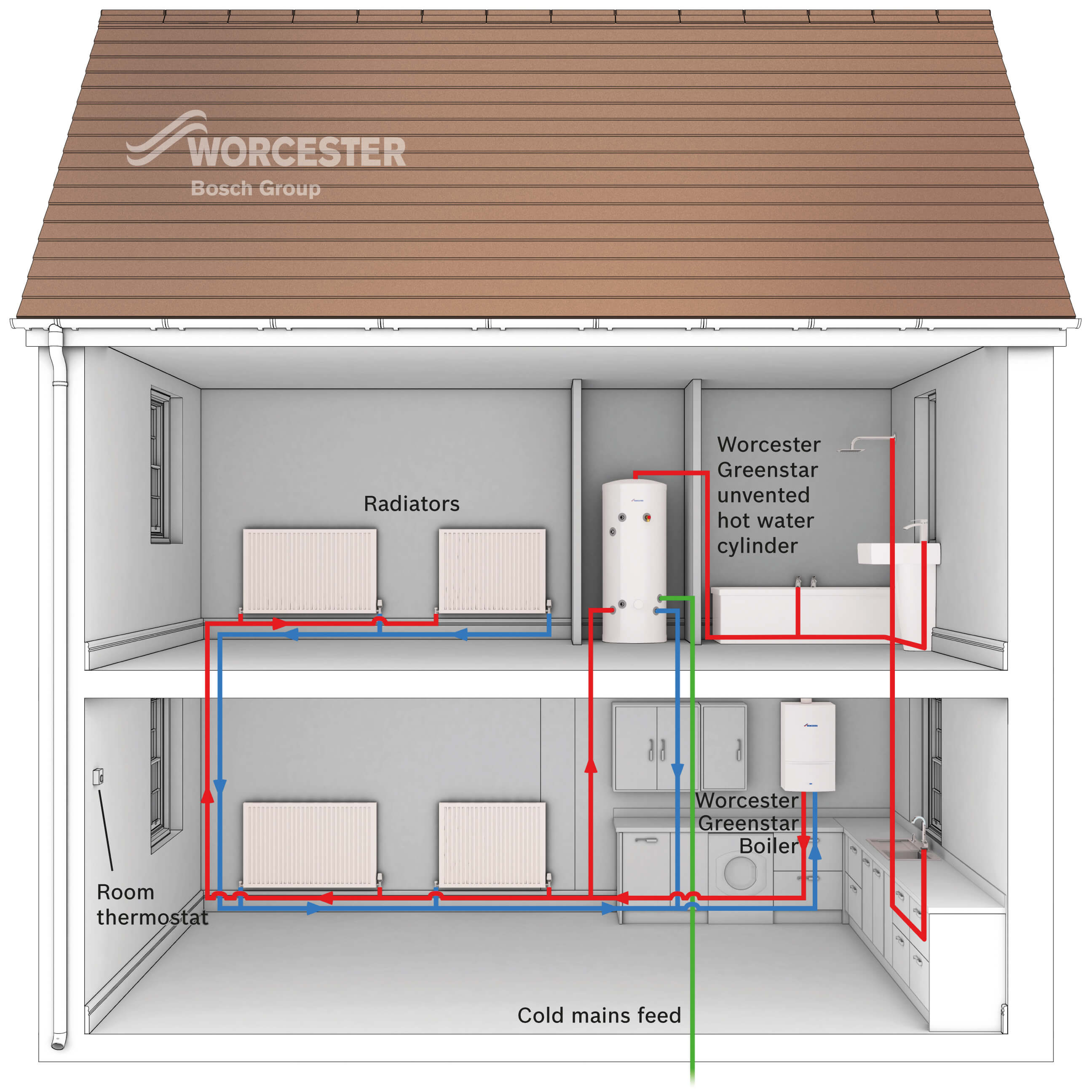 Just like a combi boiler, a system boiler produces hot water by heating water straight from the mains.
However, unlike a combi boiler, it doesn't do this on demand.
Instead, hot water is stored in a hot water tank or cylinder for you to use as needed in much the same way as with a regular boiler, the difference being that the heating occurs in the boiler itself with the system boiler, whereas it occurs in the tank or cylinder with the regular boiler.
A system boiler and hot water tank is another option for families who are thinking of a traditional hot water system and regular boiler.
Benefits of System Boilers
Advantages include the fact that with a system boiler, a feed tank and expansion cistern for the hot water tank are not required.
Compatible with solar thermal energy storage
Ideal for homes with more than one bathroom, where hot water is likely to be used at the same time in different rooms
Lower space requirement than regular boilers;
Suits properties with a lower mains pressure
Gregor Heating routinely supplies and installs a wide range of high-quality gas-fired and oil-fired system boilers to customers who request them throughout the greater Bristol and Bath region.
If you need a new system boiler, call us on 0117 935 2400 or 01225 738 397 to book a free survey and no-obligation quotation.
Condensing Boilers
It is now a legal requirement in England and Wales for all new and replacement gas and oil fired boilers to be condensing boilers. This is to help reduce the CO2 emissions being produced by non-condensing units, which are currently 16% of the world's annual CO2 emissions.
A condensing boiler is simply a boiler that features modern heat exchanger technology that enables it more effectively to burn fuel to heat your home. The heat exchanger technology uses the heat produced by some of the waste gases which traditionally would have been emitted into the atmosphere by your boiler. Condensing boilers tend to exhibit efficiency ratings far in excess of those exhibited by boilers with older, less efficient technology, which also means reducing your fuel bills.
Efficiency Ratings of Boilers
Efficiency is a measure as to how good a boiler is at turning the fuel it runs on into usable heat energy for your home without wasting energy in other forms. The more efficient a boiler, the less fuel it needs to heat your home and the more you save on your energy bills.
Since September 2015, the EU Energy-related Products Directive has set a scale called ErP for rating the energy efficiency of domestic boilers.
This scale, known as ErP for short, ranges from A+++ for the most efficient boilers to D for the least efficient.
ErP has replaced the formerly used scale in the UK known as SEDBUK 2005, which ran from A-G. (SEDBUK stands for Seasonal Efficiency of Domestic Boilers UK.)
For full details, please see our dedicated Energy Efficiency page.
Boiler Manufacturers
We pride ourselves on offering a high-quality service, and as such we only work with leading boiler manufactures who offer the same quality in their products.
To find out more about product ranges, please use the links below
Contact Gregor for Boiler Advice
Have you decided what type of boiler you need, or are you still not sure and just need some good advice?
Either way, we're here to help.
Give Gregor a call today on 0117 935 2400 or 01225 738 397.