If you are interested in Tesla Powerwall battery products, please note there is a supply shortage currently, with long lead times and no deliveries expected before Spring 2023.
What is the Tesla Powerwall 2 Battery?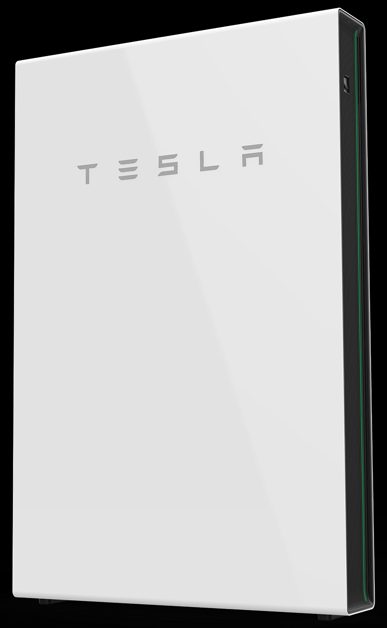 The Tesla Powerwall 2 is Tesla's second-generation home battery energy storage solution. Weighing in at 125 kg, it nonetheless has a slimline 15.5 cm-deep profile, allowing you to site it neatly against (or even mount it upon) an interior or exterior wall, without it intruding excessively on your living space.
Its usable capacity of 13.5kWh and peak power output of 5kW make it a real powerhouse for a wide variety of home applications; and it comes with a ten-year warranty under the terms of which it is guaranteed still to perform at 80% of its original capacity after ten years of use.
For more demanding applications, you can even stack two or more Powerwall 2s together in a single installation!
If you have an electric car, the Powerwall 2 can be used to charge it too. For optimum speed, Tesla recommends a twin-Powerwall installation for vehicle charging; but even with a single Powerwall, you can set a charging rate of for instance 2.8kW, leaving you plenty of power for simultaneous domestic applications.
What is meant by the usable capacity of a battery?
The usable capacity of a battery is equivalent to the amount of energy that can be stored in it. It is measured in kilowatt hours (kWh) and describes the amount of time it would take to drain the charge completely if you were continuously drawing exactly 1kW of power from it.
What is meant by the power output of a battery?
The power output of a battery is the maximum rate at which you can draw power from it. This is measured in kilowatts (kW). For example, with a 5kW battery you could slow-charge an electric vehicle at 2.4kW and run a 2kW kettle simultaneously.
Why choose the Tesla Powerwall 2?
There are many advantages of the Tesla Powerwall 2 Battery. These include:
Environmentally responsible renewable energy storage solution
Flexible off-peak energy storage and consumption solution
Customisable grid power outage back-up solution
High energy storage capacity and power output
Long lifespan at close to peak efficiency
Low total lifetime cost per kW compared with alternative systems
System is stackable – up to 7 Powerwalls can be connected
Quiet operation – emits less than 40 dBA at a distance of 1 metre
Settings manageable from your mobile device using the Tesla Mobile App
Can be sited indoors or outdoors
Thermally maintained – battery continuously adapts to a very wide range of ambient temperatures to ensure efficient operation and long life
Sleek, modern, space-saving design
Market-leading brand from the world leaders in battery development
Why Choose Gregor to install your Tesla Powerwall?
Gregor Heating is a Segen-approved, certified Tesla Powerwall installer.
Our renewables team has long experience of supplying and installing renewable electricity and energy solutions. We understand how all parts of your system work together and have the expertise to install and maintain them!
If you are interested in having a Tesla Powerwall installed in your home or premises, don't delay: call Gregor today on 0117 935 2400 and ask to speak to our renewables team!
Solar Photovoltaic Energy Battery Storage
There are two main modes of operation for the Powerwall 2 under which it will continuously take all the energy it can from your solar photovoltaic system, without drawing any from the National Grid:
In 'self-powered' mode, your Tesla battery will discharge electricity whenever and wherever it is demanded.
In 'balanced' mode, it will only discharge it during times of day you have specified as having peak demand. This allows you to get the maximum use from it at those times without relying on it during times of low demand.
Off-Peak Electricity Battery Storage
Perhaps you don't have your own solar panels, but want to benefit from cheaper electricity on an Economy 7 or similar discounted off-peak tariff from the grid? Or perhaps you have solar panels but they don't generate enough power to meet all your household's needs?
You can also benefit from the energy storage capacity of the Tesla Powerwall 2!
Set to 'Cost-Saving' Mode, your Tesla battery can be programmed to take in energy from the grid during off-peak hours, while only absorbing energy from your renewable system (if you have one) the rest of the time.
Electricity Grid Power Cut Backup Battery
Another use for the Tesla Powerwall 2 is to provide you with a back-up supply of electricity during national grid power outages, or power cuts as they are commonly known!
This may be an important benefit to those working from home on projects that demand a continuous supply of electricity, such as any involving computers or electrically powered machinery, and especially in rural areas where power lines can occasionally be downed by high winds.
In the future, when most energy is generated by renewable sources, power cuts are likely to become more common at times of peak demand and in weather conditions unfavourable to renewable electricity generation. Renewables are intermittent and variable in their power.
Even if you routinely use the Powerwall 2 to store and consume electricity you generate from solar panels, you can specify a percentage of its storage capacity to keep in reserve for the event of a power cut, giving you added peace of mind.
When 'back-up' mode is activated and a power cut occurs, the battery will discharge electricity wherever it is demanded – which includes powering your solar PV system (if you have one) to keep running and producing new electricity to help recharge it again!
Tesla Powerwall Mobile App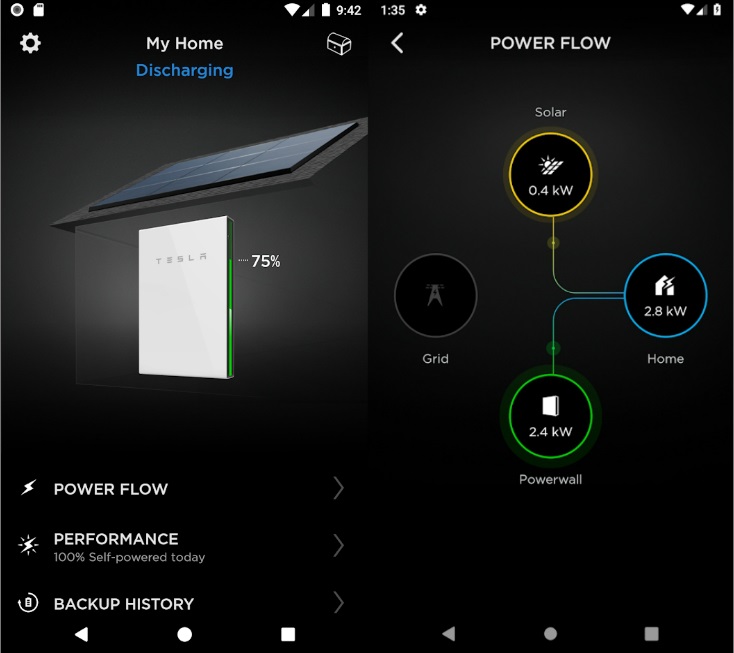 All settings for your Powerwall 2 are controllable from the Tesla Mobile App, which can also be used to control Tesla electric vehicles (if you have one!)
It gives clear readings of current system set-up and behaviour in terms of the amount of power flowing through different parts of your system, as well as graphical reports on energy usage throughout the day.
Further Resources
Here is Tesla's own page about the Powerwall battery.
See also Tesla's datasheet on the UK version of the Powerwall.
For all enquiries about having a Tesla Powerwall installed in your home or premises, don't delay: call Gregor today on 0117 935 2400 and ask to speak to our renewables team!