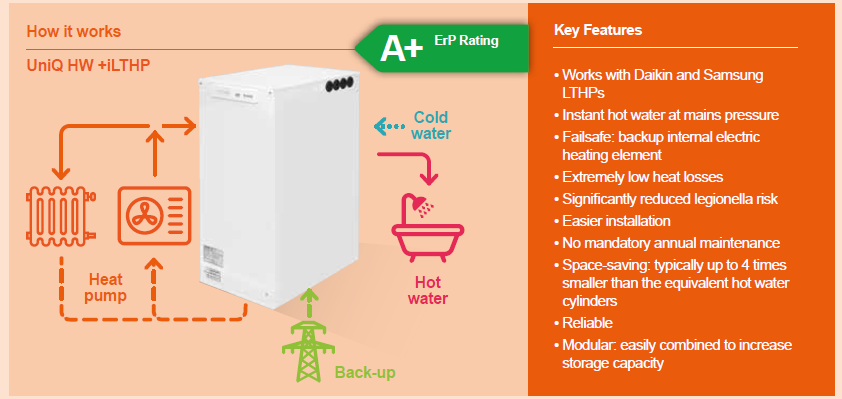 Sunamp Thermal Storage
If you want to learn more about Sunamp thermal storage units visit our dedicated renewables site!
At Gregor Heating, we supply and install the Sunamp heat battery for thermal storage of renewable energy. If you are interested to know more or want a costing for an installation, call Gregor today on 0117 935 2400 and ask to speak to our Renewables team.
Who are Sunamp and what is their mission?
Sunamp design and build thermal batteries, and are global leaders in using phase-changing materials to achieve this. Their heat batteries boast far lower heat losses than even the best hot water cylinder currently available, and are ultra-compact and scalable to heat homes of any size, super-efficiently and reliably.
Sunamp's mission is to transform how we generate, store and use heat in order to make a significant global impact on tackling climate change and safeguarding our planet for future generations.
Advantages of a Sunamp thermal battery over a domestic cylinder?
The main benefits of the UniQ HW, UniQ eHW, UniQ Dual and UniQ eDual heat batteries, compared with the traditional hot water cylinders and hot-water-only thermal stores, are:
Operational needs: smaller space, e.g. under your stairs or in the middle of the flat in a basement (somewhere where you wouldn't normally be able to store a hot water cylinder), typically 2 – 3 times smaller than the equivalent hot water cylinders; and clean installation.
It does not need to comply with the Building Regulations, Part G3 requirements, i.e. pressure & temperature relief (P&T) valve and the associated discharge pipework are not required.
Quicker and less costly installation
No mandatory annual maintenance or inspection is required, and therefore running costs are lower.
The heat is stored in the Phase-Change Material, and therefore the stored water content in the battery is less than 15 litres and the hot water is heated instantaneously on demand
The risks of Legionella are significantly reduced.
What is a Sunamp heat battery?
A high-powered, high flow-rate heat exchanger is immersed in phase-change material and encapsulated in a red moulded, polypropylene cell.
The red cell is surrounded by non-flammable vacuum insulation panels. These offer superior insulation, in minimal space. As a result, the whole range is ErP A+ (as a Thermal Store) with SAP benefits, customer energy savings and lower carbon operation.
The battery is finished in a cuboid, white powder-coated aluminium case, which offers pipework access on three sides for easy installation.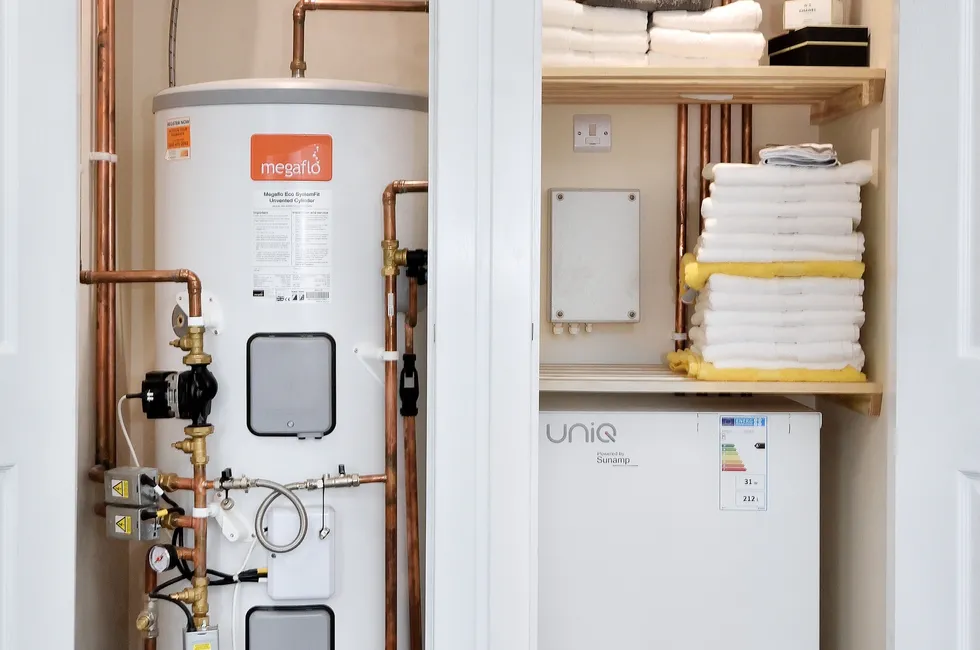 Technical information on Sunamp thermal battery
The standard models of the Sunamp heat batteries are supplied with PCM58, and these heat batteries can be used with any heat source which can run at flow temperature greater than 65°C. The discharge temperature from these standard heat battery models will be between 52 and 55°C.
Want to find out more
Please click your selections from the links below to see the latest brochures or here for FAQs (new page coming soon).
Sunamp brochure mobile version May 2021
Sunamp brochure desktop version
Sunamp training course October 2021
UniQ eHW + iPV & HW + iPV Heat Batteries Installation and User Guide
UniQ HW +i Heat Batteries Installation and User Guide
UniQ HW + iLTHP Heat Batteries Installation and User Guide
UniQ eHW 12 Heat Battery Installation and User Guide
Sunamp UniQ thermal battery (legacy brochure for older model)
Contact Gregor
To find out more about the Sunamp heat battery and how it could fit into your home, or to request a quotation for an installation, call Gregor today on 0117 935 2400 and ask to speak to our Renewables team.