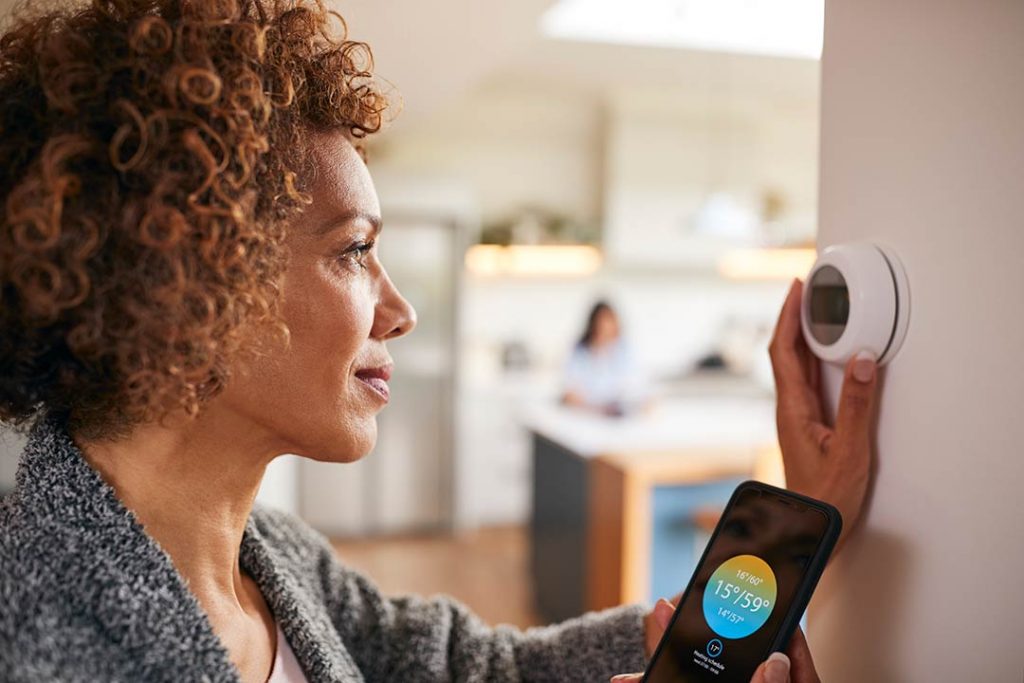 What are smart heating controllers?
Smart heating controllers are today's sophisticated electronic heating controllers that give you:
Remote control for your heating
Control of your heating by phone or tablet
More accurate heating schedules
Greater comfort at home
Improved efficiency and potential savings
The only requirement is a web connection!
The arrival of the Smart Thermostat means that the everyday room thermostat has finally joined the Internet of Things and the growing number of household devices that can be connected to, and controlled over, the internet.
Web connectivity has its advantages:
Worried you left the heating on? No problem! Use your smartphone, and make sure it's off.
Leaving work earlier than expected? No problem! Set your heating to come on from your office, and come back to a warm home. The only requirement is a web connection.
It's not all about internet connectivity either. Many of today's Smart Thermostats provide other exciting new features as well. For example, they can also:
Learn how long your home takes to heat up and cool down;
Detect when your pipes are at risk of freezing and put the heating on;
Provide detailed reports on your heating usage.
Some can even intuitively learn your heating preferences. Scary? At first glance, maybe, but in time we think you'll find it handy and appreciate the cost savings on your energy bills!
New features such as these let you implement ever more accurate and personalised heating schedules. These give you greater control of your home environment and help you to heat your home as efficiently as possible – an important aim given today's high and rising energy prices.
Smart thermostats injecting high technology into our homes today include:
These systems are relatively inexpensive for the resultant comfort and energy savings. They work with nearly all boilers, and are easily installed in within a few hours. For more information on each, please see the separate product summaries below: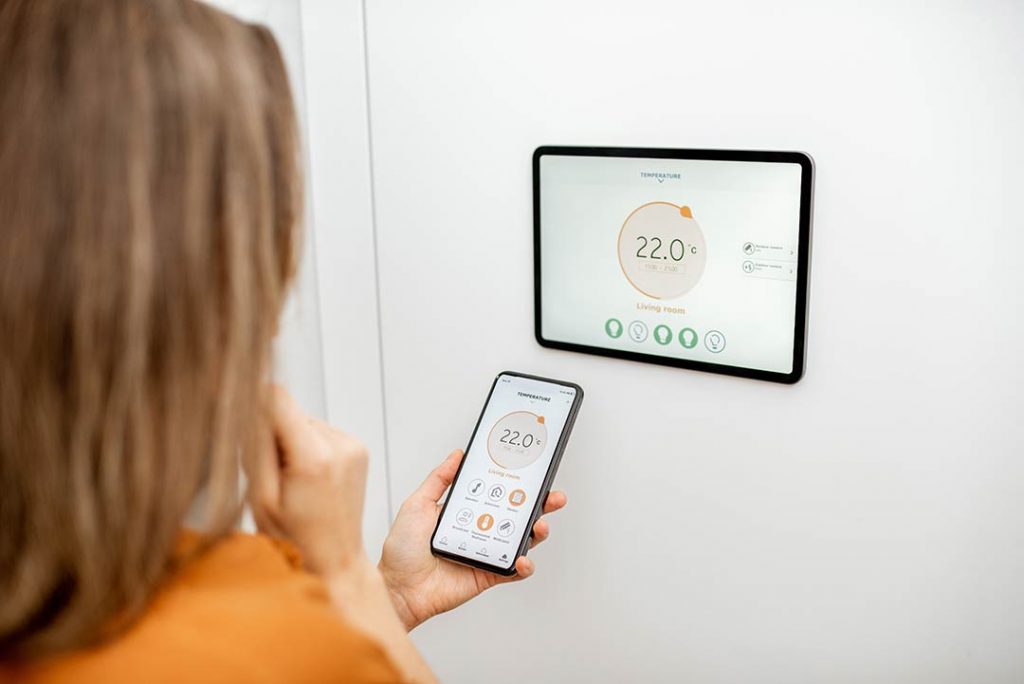 Netatmo by Starck
An energy-efficient smart thermostat, the Netatmo lets you set and schedule three temperature modes to match your level of activity at different times of day. The Auto-Adapt function uses measured outdoor temperature to determine when to switch your heating on. The system also allows for remote control of your heating from anywhere in the world with mobile connectivity, so you can even schedule it to heat up your home just before you return from holiday.
It can additionally be fitted with optional Netatmo Smart Radiator Valves. These ingenious devices allow every radiator in your home to be individually controlled on a scheduled basis, and also adjust heating in real time depending on the level of sunshine and the usage of the room. They detect open windows and then automatically shut off heating to prevent wastage of energy.
Netatmo was rated Best Buy by Which? Magazine in its Smart Thermostats group test of October 2016.
Honeywell Evohome
This modular system allows you to separately configure and schedule the room temperature in every room in your house via mobile remote control. It can also control and schedule the temperature of your hot water tank or other water storage unit.
By learning how long your house takes to heat up, it can automatically schedule the right time to activate your heating and hot water each day.
Worcester Wave Smart Control Professional
An internet-connected programmable control for central heating and hot water. It is able to automatically adjust its programmes to compensate for changes in the weather.
Nest Learning Thermostat
Now in its third generation, this product has been under continual development since its original launch in 2011. As the name suggests, it adjusts its own programming based on learning the heating habits of the user, as well as with the changing seasonal temperatures. It can additionally detect the presence or absence of people and adjust temperatures accordingly to save energy.
Of course, none of this precludes its responsiveness to your own instructions to raise or lower temperatures when you want.
Hive Active Heating
This system allows you to control your heating and hot water tank remotely from your smartphone. It can be enhanced with the addition of optional dedicated heating zone controllers for separate areas of your house.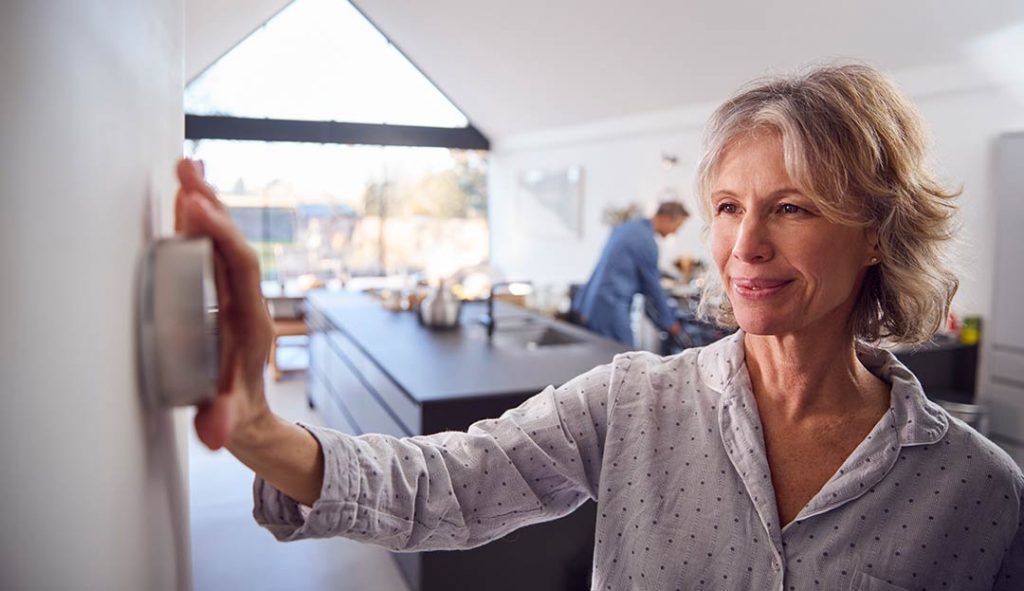 Hive Active Heating
This system allows you to control your heating and hot water tank remotely from your smartphone. It can be enhanced with the addition of optional dedicated heating zone controllers for separate areas of your house.
tado° Smart Thermostat
Designed to be controlled over the Internet, this is another modular smart heating system that you can expand with as many optional additional thermostats for separate heating zones as you like (these can also be used for underfloor heating).
To get the best from the tado° system, you need to be the kind of person who carries your smartphone wherever you go, because it uses the location of your smartphone to automatically set suitable temperature levels and avoid wasted heat.
It is further expandable with the modular tado° Smart Radiator Thermostat, each unit of which allows the individual control of a single radiator.
Heatmiser Neo / Nuheat neoStat
Essentially the same system but available under two brand names, this provides programmable underfloor heating as well as controlling the temperatures of your conventional radiators and hot water storage.
Like the tado° system and some others, it uses the location of your smartphone to assume your whereabouts and adjusts its temperature settings accordingly.
Smart Thermostats Installation and Advice in Bristol & Bath
At Gregor Heating, we are happy to advise on all the latest Smart Thermostats, and supply and install the right one for you. We do not provide a fit only service so if you are not sure what thermostat is right for you, please give the team a call first to discuss options, we'd be happy to help.
If you'd like to find out more about how a Smart Thermostat can help you boost your comfort at home and to save on your energy bills, call Gregor on 0117 935 2400 for a free chat or contact us.
Gregor – we know boilers and heating!
Want to find out more about the various smart heating controls we supply and install? Call Gregor today on 0117 935 2400 or 01225 738 397 to speak with one of our friendly heating customer service advisors. They'll be able to answer any questions you may have.