Here are answers to some of the questions commonly asked by customers thinking of installing a new boiler. Remember we're only a phone call away so if you do need further information call us on 0117 935 2400. Alternatively you can email us at [email protected] or use our contact form.
How do I obtain a quotation? / arrange an initial survey?

Obtaining a quotation is easy, just contact one of our friendly Customer Service Advisors on 0117 935 2400 or email [email protected] to arrange a free, no-obligation initial survey. Alternatively you can complete our contact form and we will be in touch.
Surveys can be arranged at a time that suits you and we are able to offer appointments from 8am to 6pm Monday to Friday.
As part of our initial survey one of our experienced surveyors will visit your home to discuss your requirements and review your existing installation. The survey could take anything up to an hour to provide us with key background information.
Following our survey we will provide you with a detailed written quotation based on the installation that we have agreed best meets your needs. Quotations are valid for a period of 90 days from the date of issue.
One of our friendly Customer Service Advisors will be happy to discuss your quotation with you should you have any questions.
How do I accept a quotation?
You can accept a quotation by phoning our office, we will then issue you with an acceptance letter to be signed & returned. Alternatively you can email a copy of the signed acceptance form to your Customer Service Team contact.
What happens once I have accepted a quotation?
Having accepted a quotation, the next step is to agree a final survey and installation date with our Customer Service Team. During our final survey we will carry out a final measure-up to ensure that everything goes smoothly on the day and you will be able to discuss with us any remaining queries you have and any additional works you may want done.

We will then send you a letter detailing your agreed dates and the exact works and prices agreed, along with our terms and conditions and your deposit invoice. For your convenience we send a stamped addressed envelope for you to return your signed paperwork.
What payment options are available?
An accredited Worcester installer and service agent, we are now able to offer you a payment plan for selected Worcester boilers that lets you spread the cost of your new boiler through a series of more manageable monthly payments over 3, 5 and 10 years*.
Finance is available for the total cost of your installation and the application process is simple and fast. The representative examples below are based on an installation cost of £1,933 and 20% deposit. If you would like to know more please contact us on 0117 935 2400. Finance is provided by Hitachi Capital.
*Subject to eligibility; full terms and conditions available on request.
Representative examples:
| | 3 years | 5 years | 10 years |
| --- | --- | --- | --- |
| Installation Price | £1,933.00 | £1,933.00 | £1,933.00 |
| Deposit | £386.60 | £386.60 | £386.60 |
| Loan Required | £1,546.40 | £1,546.40 | £1,546.40 |
| Total Charge for Credit | £236.30 | £236.30 | £236.30 |
| Total Amount Repayable | £2,169.30 | £2,334.21 | £2,785.50 |
| Loan Term | 36 months | 48 months | 120 months |
| Monthly Cost | £49.51 | £32.46 | £19.99 |
| Representative APR | 9.9% | 9.9% | 9.9% |
What is the installation process?
A typical boiler replacement takes a day and a system conversion upgrade 2 – 3 days.  All our installations are carried out by our experienced Gas Safe registered engineers (OFTEC registered in the case of an oil boiler) and all electrical work is carried out by our NICEIC registered electricians.
At the start of your installation your engineer will talk you through the planned works and discuss any concerns you may have. We will put down dust sheets and take every care to ensure your home is safe and well looked after.
Having completed the installation we will commission, test and certify your new installation. We will also carefully talk you through your new boiler's controls and how to operate it in the most efficient way.  Prior to leaving we will clear-up, vacuum and leave your home as we found it. We will also leave you with our comprehensive Customer Care Pack that includes operating instructions for your boiler.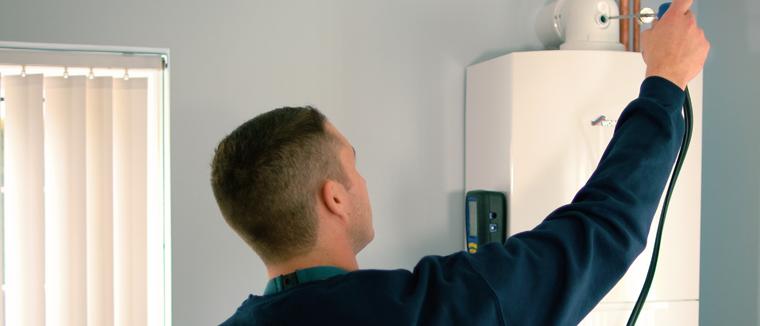 All rubbish/redundant items will be cleared on the final day of your installation. We only use licensed local waste removal companies.
Will I have central heating and hot water during the installation?
We always do our utmost to minimise the disruption during the installation process and can help with temporary heating arrangements in those instances when an installation spans more than one day. Hot water will normally be off for a least 1 day depending on the type of installation. It may be that you have an electric shower or immersion heater which would minimise the time without hot water.
What about using my other gas and electrical appliances?
It is usually possible for you to use your other gas and electrical appliances as normal during an installation except for the final gas and electrical connections when there is a short period of interruption.
What happens after the installation is complete?
Once the installation is complete we will register the boiler with Gas Safe (OFTEC in the case of an oil boiler) and the manufacturer to ensure the validity of its warranty. You will receive registration certificates from Gas Safe (OFTEC if oil boiler) and the manufacturer direct to your address.
We will then send you your final invoice along with a customer questionnaire.   We highly value the feedback we receive from our customers and our questionnaire gives you the opportunity to rate us/make any comments. Also, should you recommend us to a friend, for whom we subsequently carry out an installation, we will reward you with a £20.00 Marks and Spencer voucher for your loyalty.
What sort of guarantee will come with my new boiler?

Please note: All guarantees are subject to an annual boiler service being carried out by an appropriately qualified engineer. It could invalidate your guarantee if the boiler has not been serviced.
All new boilers installed by us come with a full manufacturer's parts and labour warranty. As a long-term accredited installer of Worcester and Vaillant boilers, many also come with a better warranty than is otherwise available. We currently offer a minimum 10-year warranty on selected boilers with extended warranties available. (Please see your quotation for the warranty on your chosen boiler)
In addition, all new gas boilers installed by us come with one year's free Heat:Plan1 cover entitling you to a free boiler service in the first year following the date of your installation. Heat:Plan1 is our gas boiler repair and maintenance contract which we will discuss in more detail at the first service (Please note Heat:Plan1 cover is not available for oil installations)
What are the different makes of boiler that I buy from Gregor?
We offer a full range of boilers from today's leading manufacturers and are an accredited installer of Worcester Bosch, Vaillant and Baxi boilers.
What are the different types of boiler that I can choose from?
There are 3 main types of boiler:
Combination or Combi Boiler – Produces hot water on demand
Regular Boiler – Produces hot water that is stored for use in a hot water tank
System Boiler –  Similar to a Regular Boiler but requires less space as a pressurised system means you do not need an additional feed and expansion tank in the loft
Boilers can also differ within the above categories with regard to the fuel that powers them (gas, oil or LPG) and to whether they are condensing type (more efficient). For more information on the different types of boiler please see our Boiler Guide.
What is your complaints policy?
Our goal is to be your #1 choice for heating solutions and services and we work hard to provide you an outstanding customer experience. However, we are not perfect and sometimes things go wrong. In these instances we rely on your feedback to help us put things right and to ensure we do not make the same mistakes again. Should you wish to make a complaint you can do so by:
All complaints are acknowledged immediately and logged and retained on our CRM system before being passed to the relevant departmental head for full investigation and resolution. It is our policy to resolve all complaints amicably within 28 days of receipt. However, should this not be possible we will provide you with a clear explanation of our position and you are able to contact Ombudsman Services, a not for profit company that provides an independent, expert resolution service for Which? Trusted Traders and their customers, via the Which? Trusted Traders telephone number.