You probably won't be surprised to hear that around 7 million people report boiler breakdowns during the festive season*. At Gregor Heating, it's our busiest time of year and we will always try our best to get to a customer within 24 hours of a phone call.
But the reality is, lots of these breakdowns can be avoided. It's really hard to get this message across to people so we are delighted that a customer of ours, Mrs Davies from Bristol, agreed to share her story.
"I've had my boiler serviced every year religiously for five years. Each year the engineer from Gregor Heating tells me how lucky I am that it's still going.
"Each year I think the same thing, "Yes, I am aren't I?"
"This year we just didn't get around to having it serviced in October, too busy to get the appointment booked in, and then the boiler just stopped.
"This couldn't be a worse time. We're on the two week countdown to Christmas, I have family staying, people to keep warm and feed.
"The damage is significant. It's about £2,000 for a new boiler. Argh!! I can't find that two weeks before Christmas.
" In short, I feel like my old friend has let me down. My old faithful Worcester Bosch has kept me (and the people in my house before me) warm and cosy for over 22 years.  It's like an old friend. And now its not here when I need it most.
"When the engineer came out the morning I called Gregor to report the breakdown, he delivered the news I didn't want to hear but I knew was coming. "I suggest you get your prayer book out, I can restart it but for how long I don't know. It's time to get a new boiler."
"The reality is I've let myself down. No-one but me is to blame. For a boiler to work solidly and reliably for over 20 years is damn good going. The life expectancy of most boilers is 13 years if you're lucky, so I have been very lucky.
"So I am just going to have to bite the bullet, but its not all bad news, the good news is it can be resolved efficiently and there are more benefits including;
"Gregor Heating can get a boiler fitted within a day and they can get it done this side of Christmas. The boiler comes with a ten year guarantee so I know at least I'm covered for 10 years (providing I keep having the annual boiler service).
Gregor also offers a range of payment options I can consider. So I don't have to take the full hit, I have choices, which mean it's not such a financial burden especially at this time of year.
"Once the boiler is in, I understand that I can be saving up to £300 a year on my energy bills because it will be so much more efficient and with the new technology, I can control the heating from my phone.
"So for anyone else out there, my advice is don't leave it too late.
"There is never a right time to find the money needed for a new boiler, whatever the time of year, but there are choices. If it's something you know needs doing, plan ahead, don't let it build up and have the potential to ruin your Christmas, just when you don't need it most. It's not worth the stress and hassle, in fact it will save you stress, hassle and money in the long run."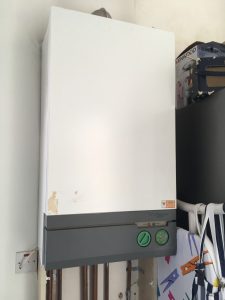 * from research conduced in 2015 by EDF Energy.