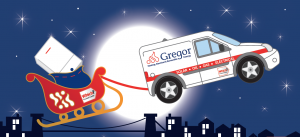 We are feeling festive here at the Gregor HQ so wanted to share our '12 tips of Christmas' to ensure you have a warm, safe and affordable Christmas. Enjoy the countdown!
#1. Switch to LED Christmas lights
Replacing your old Christmas lights with LED's will certainly save you some extra money. The Energy Saving Trust shows that LED lights use 90% less energy than incandescent lights. An incredible energy saving! They are also much safer – the bulbs remain cool to touch so no risk of burning Christmas trees.
#2. Get time & energy savvy in the kitchen
Remember that the oven doesn't need to do all of the work! Pop smaller dishes that can be cooked in smaller appliances like the microwave, and keep lids on saucepans as they cook. You could even ask friends or relatives to each prepare and bring their own course or dish for Christmas day to save on prep and washing up. 
#3 Make a list…and check it twice
Making lists will keep things organized and make sure you stay within budget. Write up all the food you need to buy, travel expenses and gifts that need purchasing. Include everyone, from the postman to your grandchildren. This way, you can properly plan for what can be an expensive time of year.
#4. Invest in rechargeable batteries
Our customers with children will know how quickly packets of batteries are used up at this time of year! For battery-powered fairy lights and toys, it is worth buying rechargeable batteries. Around 15 billion ordinary batteries are thrown away yearly, which all end up in landfill sites. Choosing the rechargeable option is much more sustainable. 
#5 Switch that TV off!
The festive period is often spent relaxing at home, so it isn't a surprise that around half of us keep the television on as background noise without actually watching it. Save on your electricity bill this winter by switching the TV off and playing a board game instead.
#6 Save money on your heating bill
The UK uses spends around £9.72 million daily on heating our homes, according to Power UK. With friends and family visiting, the extra body heat means that you can turn down your thermostat by a couple of degrees and not feel much of a difference, at least to your pocket. Keep curtains closed tightly in the evening and consider getting reflectors behind your radiator to improve heating efficiency. 
#7 Choose tablets over laptops
If you have a new laptop on your Christmas list this year, consider purchasing a tablet instead. Tablets use 70 per cent less power than laptops, meaning you'll need to spend less time and money charging your device through its lifetime. Every little helps!
#8 Heading out? Turn electronics off of standby
The Energy Saving Trust explained that an advanced set-top box left on standby for 20 hours a day could cost around £20 a year alone without even turning it on! When you head out to stay with relatives over Christmas, be sure to switch TV's, computers and games consoles fully off.
#9 Save your tree from dropping needles
If you are keeping your tree watered and its still looking a little dry and dropping needles, try moving it somewhere cooler. Christmas trees are often placed next to radiators or direct sunlight. Moving it away from these areas will keep it looking fresher much longer.
#10 Make the most of smart heating controls
The festive season can be unpredictable; you might end up staying away overnight or (hopefully not) stuck in Christmas traffic and the weather is just as unpredictable too. With devices such as the Honeywell Evohome or the Nest learning thermostat, you can control your heating from your smart phone or tablet. This way, you can adjust the heating for surprise arrivals or any late returns. No wasted heat energy here!
#11 Set a timer for your Christmas lights        
Simple but effective – setting a timer will ensure that you aren't wasting electricity by having lights on before it gets dark, and it won't matter if you forget to turn the lights off before you go to bed. It also helps for security reasons – your home will appear occupied even if you aren't around.
#12 Less is definitely more         
With all the lights, present expectations and ideas of grand Christmas dinners, it is worth keeping in mind that as long as you are with your loved ones, the detail doesn't matter too much. If it is your first time hosting Christmas, get the basics right before worrying about lots of extras. The happy feeling of Christmas is enough to keep everyone's spirits up!
We'd like to wish all of our customers a happy Christmas. Have a warm and cosy festive season.