We are delighted to say that we are runner up for two awards at The Bristol Post's Business Awards. Large Business of the Year and the Best Customer Service category.
The awards have been running for seven years and have established themselves as one of the most important nights on the Bristol business community's calendar. This year saw a record number of entries.
"This is a great achievement for the business," said Steve. "We've been in business for over 25 years and through the ups and downs the Gregor customer service is our trademark that has kept us going.
"We invest a lot of time in speaking to our customers, getting feedback and working harder to make the customer experience even better. 75% of our business is repeat business or via personal recommendation, it's the secret to our success so we are delighted to have been recognised for this.
Mayor, George Ferguson, who is involved in the judging process and is also a previous recipient of the Lifetime Achievement Award said:
"These awards honour some of our most talented business men and women, from small start-up companies with big ideas to much larger, established organisations. We want to recognise these businesses for the contribution they make and support them every way we can in this difficult economic climate."
Read more about the awards here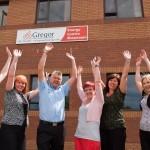 .