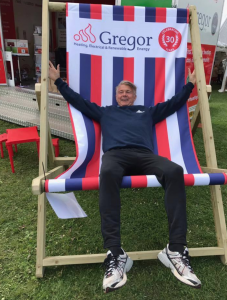 The more savvy readers amongst us might notice the misspelling in the title of this blog. But it is not a typo, the Gregor Heating teddy bear has come out of hibernation and is ready for a summer of fun (get it?!).
Our customers will know that we love nothing more than being part of local events to really get into the community spirit. Our staff and their families love coming to and being part of them.
This year we are are exhibiting at not one, not two but three different events in Bristol and South Glos. Each provides a perfect opportunity for you to come along and have a chat to the team.
Our giant deckchair has also had a dusting down and will be on show. It proves to be a hit wherever we go!
This year we'll be running a competition to take a selfie in the Gregor deckchair. If you do this and share and tag Gregor Heating on social media, you could be in with a chance to win a £75 meal voucher.
While the kids are having fun in the colouring corner, our experts will be on hand to let you know about the latest in smart home technology, Heat:Plan boiler cover, the warning signs that you might need a new boiler.
So we hope to see you there!
Bradley Stoke Festival – 9th + 10th June
We'll be kicking things off at the Bradley Stoke Festival on Saturday 9th June at the Jubilee Green.
On the day, there is plenty going on! With street art demos, fun rides, archery and community stalls, the Bradley Stoke Festival this year will have music from local bands, dancers and even a 'Colour Fest' – with powder paint throwing. There will also be a football tournament with 13 of the locals schools getting involved. Watch out for the BradleyStoke FM team around and about with some special branded t-shirts!
Sounds like fun? Read more about the event here.
Landlord Expo – 13th June
Landlords, you won't want to miss this one. Running from 11am – 6pm at UWE, the Landlord Expo will have over 90 exhibitors attending and 18 seminars for you to attend.
We'll be on hand for any questions and queries you might have and you'll be able to enquire about our property servicing packages.
Visit the website here.
South Glos Show – 4th + 5th August
Back for the fifth year, the South Glos Show promises to be bigger and better than ever with the Gregor Heating Main Arena open for business this year.
So what can you expect to see? There will be Russian cossack riders, performing incredible stunts and acrobatics. The Wings of Wales Falconry will be attending to wow the audience, plus all the classics; the Food Festival, music, arts and crafts and more.
Buy your tickets in advance here.
Redfest – 4th August
Taking place on the 4th August, Redfest is back for another year in St. Georges Park. With 3 music stages, a Wellbeing area and Kids Village, the headline act is Lack of Afro, who promise to get everyone up and dancing. Plus plenty of food and craft markets too.
We will be there in spirit with our banners out and about, see if you can spot one and tag yourself and you may be in with a chance to win that voucher!
Learn more here.