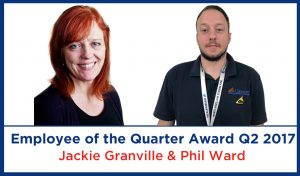 Celebrating all achievements is important, whether it is closing on a sale, managing customer enquiries or completing a large-scale boiler installation project on time, everyone has their part to play.
That's why we run an 'Employee of the Quarter' recognition scheme to show our appreciation for those who have gone the extra mile in their role.
Quarter 2 of 2017 brought the next round of the awards, and with it, came new winners. We are very pleased to announce that our two winners are Jackie Granville and Phil Ward!
Jackie is our Service Admin Team Leader and worked for Gregor Heating for over 14 years. In one of the busiest times of the year for her department, Jackie has consistently demonstrated her commitment throughout, always going above and beyond.
Over the last few months, we have heard so much fantastic feedback from Phil's colleagues about his flexibility and always going the extra mile – quite literally – when needed to ensure we don't let our customers down.
Huge congratulations to both Jackie and Phil, who take on our core values and are always proactive and professional in their approach to work.
The awards are made following feedback from other employees and also feedback from customers is also taken on board so if you'd like to nominate someone please let us know by emailing [email protected] saying who you'd like to nominate and why.