At Gregor we know how important it is to invest in training for local young talent. One way we do this is by taking on 3 apprentices each year and have done for the last 25 years. Last year we were delighted to be recognised for our apprenticeship scheme with a Lord Mayor's award.
Recently, our engineers have been busy installing underfloor heating in the Royal Pavilion, Poundbury. On site it was great to see employee Darren and apprentice Wesley, father and son, working together as part of the Gregor team.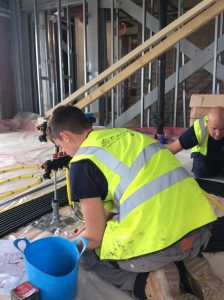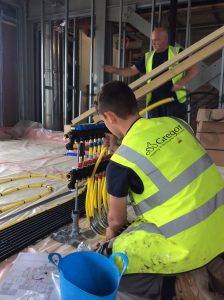 Wesley (left foreground) is currently in his second year of a 4-year long apprenticeship through our apprentice and training partner, On Site Bristol. Whilst employed by us, all our apprentices are supported, closely monitored and undertake regular assessments to ensure their successful development. 
This September we've had three more apprentices join our team through On Site Bristol – Ted, Jordan and Joseph. This year, they'll be out and about helping our engineers on private installations in new build homes and housing association properties – great hands-on experience!