It's always nice to receive external recognition for something that you do every day, and last week we heard that we had received the Medium Employer of the Year Award at the annual Apprentice Awards, hosted by the Bristol Post and Bath Chronicle.
The awards are given in recognition of the companies and training providers who employ and support all the brilliant young apprentices in the region.
We sit in good company with other local businesses including Hayes Parsons (Small Employer of the Year) and GKN Aerospace (Large Employer of the Year).
Our apprenticeship scheme at Gregor has been running for over 25 years and provides 16-18 year olds with an opportunity to get into work straight from school. Being given work experience, alongside educational training from a young age is a great combination to kick-start a strong career in this growing industry.
As our operations director, Craig Jeffaries, who was one of Gregor Heating's first apprentices, says;
"Over the past twenty five years, we have supported up to four apprentices each year. It's great to have our hard work recognised because one of our goals is to maintain and grow a strong interest from the younger generation in the heating industry. 
"With so many technical developments on the horizon, the heating industry is an exciting one to be a part of and, with such a fast growing population, people are always going to need heating in their homes so this is a core way of investing in the future."
The Gregor Heating plumbing apprenticeship typically lasts for 4 years, during which apprentices complete a mixture of work based and college training, to gain their Level 3 Advanced Apprenticeship qualification which will qualify them as a professional Plumber.
At the end of their apprenticeship and following an interview assessment, many of our apprentices go on to become a part of the Gregor team.
To learn more about what it's like to be an apprentice at Gregor Heating, head over to our Facebook page to watch our apprentice video.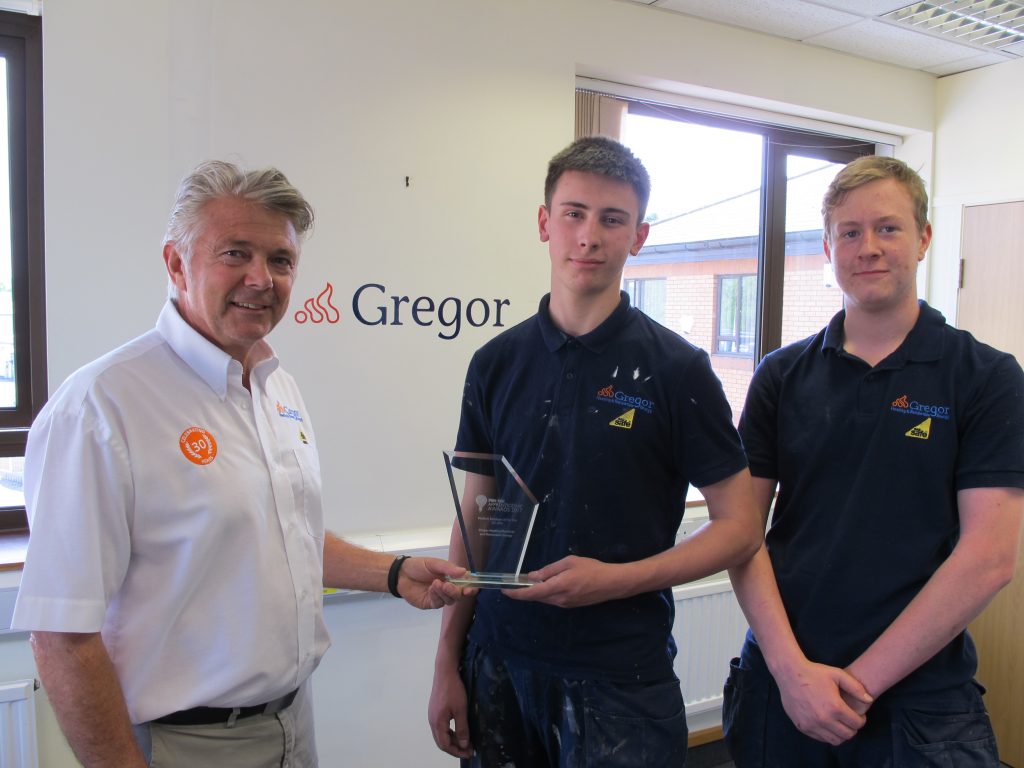 Pictured: Steve Gregor, Managing Director (far right) and apprentices Joseph Yabsley (left) and Edward Barnett (right)