Never mind September being about back to school, for us at Gregor Heating, it's actually start work for some school leavers and this month we welcome three new apprentices to the award-winning Gregor Heating Apprentice Scheme.
Joining us are school leavers Charlie Thompson and Danny Luther, both alumni from Hanham Woods Academy and Liam Clark who's just finished at Bedminster Down School.
The three year apprenticeship, in partnership with On Site Bristol, gives young people who are interested in training the chance to become fully qualified plumbers an opportunity to work alongside our team and get proper experience. After three years, a full interview and assessment, a large number of our apprentices go on to become full-time Gregor employees, working as fully qualified plumbers.
"Everyone is always going need a plumber so it's an in-demand role. With several family members also working in the industry I've been keen to get into it for a long time." said Charlie.
"I'm really looking forward to learning new things and being faced with a challenge on the Gregor apprentice scheme. I've heard great things about it." added Liam.
"After meeting some of the Gregor team at an Onsite Bristol open evening I was really keen to join their apprenticeship scheme. As good size company it presents the opportunity to develop my career here." Danny explained.
Steve Gregor says; "By employing school leavers we provide them with job opportunities and a clear career path and at the same time investing in the future of the plumbing and heating industry, which is a growing service market.
Congratulations also to Joe, Jordan and Edward who have just successfully completed their first year and are about to head into their second year working on new build sites.
Earlier this year we were presented the Medium Employer of the Year Award at the annual Apprentice Awards, hosted by the Bristol Post and Bath Chronicle. Find out more here.
Entry for the 2017-18 academic year is now full but if you are interested in becoming a Gregor apprentice in 2018-19 we will host our annual open evening early 2018. Stay tuned for details!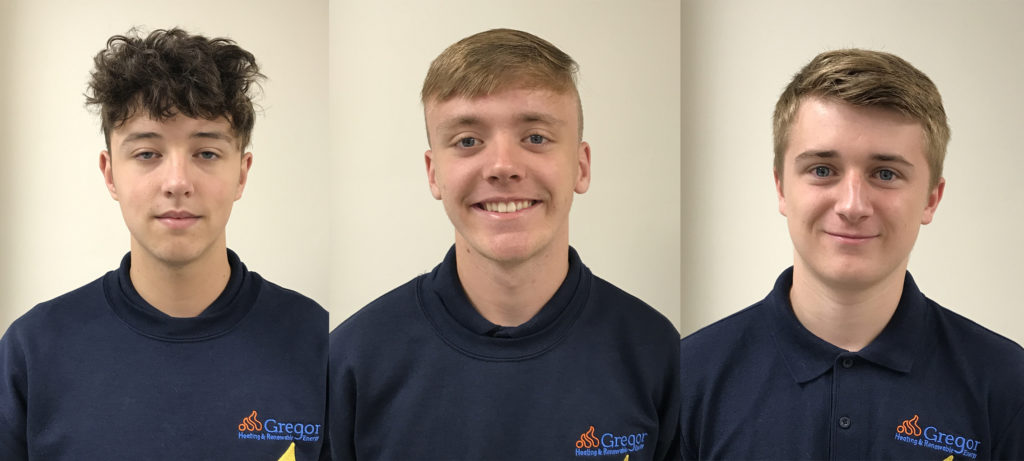 Pictured: Charlie (Left), Liam (Middle) and Dan (Right)