October is National Home Security Month. We know that life can be hectic, so home safety can be pushed to the back of your mind.
However, a report released earlier this month shows that home safety should be top of mind, because the number of home burglaries and break-ins in and around Bristol and Bath has risen year on year since 2013.
What would be more frustrating than to look back and realise how making even some small and not that costly changes could have kept your home safer.
The average break-in costs a household around £3000. But some simple steps can be taken to increase home security, meaning you can be safe in the knowledge that your family and belongings are protected.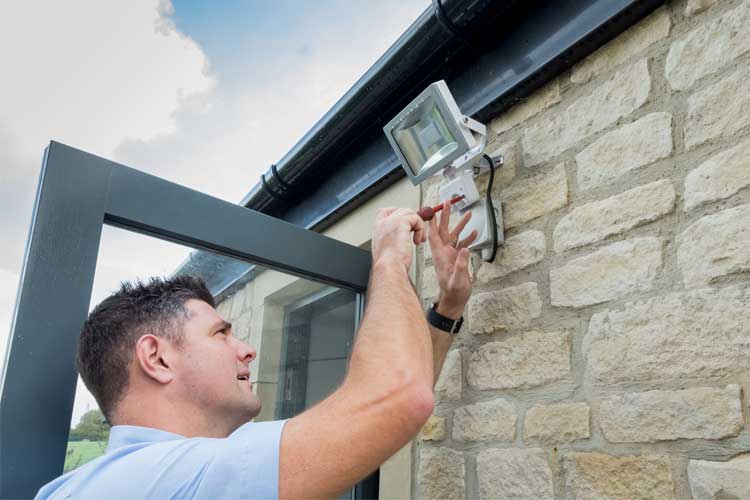 A well-lit home
Research shows that when the clocks go back (Sunday 28th October this year), burglaries spike by 38%! So the appearance of your property can make all the difference.
Outdoor home security lighting such as external floodlights and door lights that activate when they detect the presence of a large moving object such as a person, are a must. We especially recommend the JCC Niteflood high-output LED floodlight and Eterna external lighting.
With products such as the Phillips Hue, you can control your lighting using your smart device, voice, or even a wireless switch. This means you can turn on and off lights from wherever you are. Be sure that you always return to a well-lit home.
Keep an eye on what's going on.
The Netatmo Presence outdoor security camera is one of our favourite pieces of smart tech. The clever camera detects movement around your property, and reports it live onto your devices, wherever you are.
It can detect the difference between animals, cars and humans. So whether it is a car entering the driveway, or a person entering your property, you can choose whether to be notified.
Keep things secure.
With added smart home security measures, there a few more good old fashioned techniques to try. Consider upgrading your locks on your windows and doors. This higher level of security has other perks too – it can result in a reduction for your home insurance premiums.
Need a hand keeping your home well-lit and secure? Contact the Gregor Electrical team to find out more.
(Sources of statistics: Home Office, Co-op insurance)