Feeling safe and secure in our homes is so important. We sometimes forget to go the extra mile in taking security measures, but recently we saw just how useful home safety devices can be!
The story comes from our Gas Installation Manager. His brother has a Netatmo Presence at his home, which is one of the several Netatmo security devices that we install here at Gregor. The Presence device is an outdoor security camera that can detect people, cars and animals. You might remember seeing our fox, Gregory, who we spotted on electrician, Alex's, camera!
The Netatmo Presence allows you to be in control of your home's safety, no matter where you are. There is an app you can link to it, meaning you can live-stream your property onto your tablet, phone or laptop to receive alerts for unusual activity around your property.
This effectiveness of the Presence was demonstrated recently as the customer received an alert whilst he was out. Checking the live-stream video, he could see intruders on his property, stealing his son's bike. Due to the live footage and the precise alert, he was able to quickly return home to confront the people who had taken the bike, catching them up further down the road from his home.
Thanks to the Netatmo Presence our electrical team installed, the bike was safely returned!
A story like this shows just how important it can be to add some camera security to your home. If you like the idea of having a Netatmo Presence installed then speak to our electrics team on 0117 935 2400.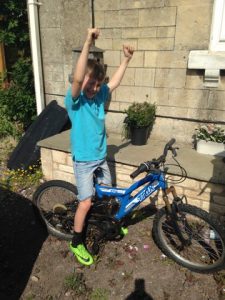 Pictured: Paul's nephew reunited with his bike