We have recently partnered up with Yorkshire-based gas training company, BTC Training Centre, to mentor gas engineer trainees.
One BTC trainee, former scaffolder, Ashley Harris has recently started his mentoring programme with us to complete a portfolio of evidence, a mandatory requirement to become a qualified Gas Engineer, during his study for a ACS Domestic Gas Qualification.
Whilst working with us, Ashley will gain on-the-job experience with our gas maintenance team, installing, servicing, and maintaining gas boilers and central heating systems throughout households in Bristol and Bath.
Gregor's commercial director, Shaun Williams said; "Forming this partnership with BTC is part of our growth strategy to employ only the best engineers into our business and to help nurture and support local talent. Ashley has been doing great in his training so far, he's a very technical and able trainee with a strong drive to achieve!"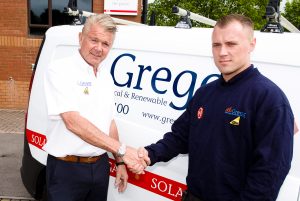 Pictured: Steve Gregor, Managing Director (left) and Ashley Harris, BTC trainee (right)