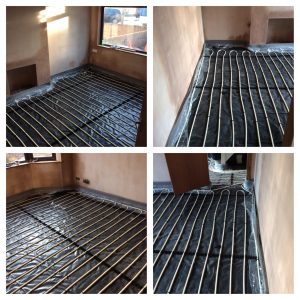 Underfloor heating (UFH) is growing in popularity; it is an excellent alternative to radiators or warm-air heating systems for your home. Compared to a radiator heating system, underfloor heating is more efficient when paired with a modern condensing boiler or heatpump.
And let's face it, its much more attractive. No more unsightly radiators taking up precious wall space and presenting health & safety issues of being too hot, particularly around children and pets.
Our heating team can advise on the best heating system to suit your needs and match your budget, whether you are renovating your home or it is just time for a change.
Here we look at the underfloor heating options and consider some of the pros and cons to help you decide if it is the right choice for you and your home.
The two types of underfloor heating: water vs. electric.
Warm water underfloor heating is most commonly used as the main heating provider with each room of the building. It consists of continuous lengths of pipework generally installed below floor level, either buried within a concrete screed or situated between the floor joists, which connect to a central manifold and link back to the boiler / heatpump. This method means the whole floor slab becomes the heat emitter and ensures long-burn heat production.
The electric underfloor heating consists of sheets of matting which link back to a central room thermostat control. This type of system offers very little warmth to the room itself so is generally installed as an addition to the either a radiator or towel rail. It's most commonly used in bathrooms and en-suites keeping the floors warm to the feel and dry from water splashes etc. Electric underfloor matting is more flexible for hard to reach areas and being easier to install than a water-based system, is cheaper to have fitted but more expensive to run.
So which should you choose?
As a general rule, water underfloor heating can in some circumstances be cheaper in the long run, but more expensive to install. Electric underfloor heating is more affordable to install, but is more expensive to run and often requires an additional heat source.
The location of your underfloor heating installation can also have an impact on the type of system you can get. With lots of different underfloor heating solutions for all floor types and coverings there is normally always a solution for every application.
We'd always recommend a full consultation with one of our team members, who can help you assess which would suit your needs better.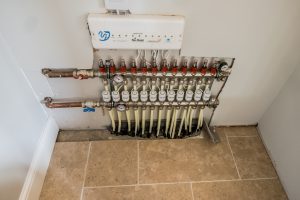 What are the pros
Underfloor heating will provide you with maximum comfort. Your room will be heated evenly and distributed, as the heat comes from every area of the floor rising up into the room, rather than say, a single radiator in a room. This means it can run at a lower temperature to keep you warm.
If you want to free up more space in your home or are tired of looking at radiators, underfloor heating can eliminate the need for any radiators at all.
It will keep your feet cosy – imagine coming down on a cold winter morning to a toasty, warm floor rather than cold tiles!
Once installed there is minimal maintenance required.
And the cons
UFH can take slightly longer to heat up than radiators, which reach higher temperatures faster. But, with timers and smart controls, you'll be able to plan when you need your room to be cosy and warm.
It's not always an ideal choice for really old buildings with thick brick walls and floors.
If something goes wrong, then repair can be disruptive and costly. That's why it's imperative you use a qualified experienced installer.
These systems can cost more to install, which is why they are most popular with those renovating or building their own homes – you will save a lot on the labour cost if the flooring is being lifted up and changed anyway.
Will underfloor heating cause major upheaval?
Interestingly, the answer is no, not always! Developments in the industry mean that installing underfloor heating won't always require you to dig out your floor structure.
Recent developments mean you can choose surface mounted heating (for water-based UFH systems).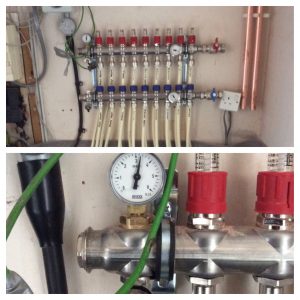 New insulated panels have been developed which can be laid above existing floor structure. They might only add as little as a couple of cm to the floor height and utilise warm water, similarly to a buried system. There are easy to fit, and are definitely an option for those who aren't looking to renovate, but would like the benefits of underfloor heating.
So there we have it, an overview of underfloor heating. A cosy option for heating your home that eliminates the need for bulky radiators and will keep your feet warm all year long.
If you are interested in learning more about underfloor heating, why not give the Gregor Heating team a call for a no-obligation chat about your options on 0117 935 2400.