This Christmas instead of sending cards we put our money to a more charitable cause and donated £600 to "Bristol Together" and "The Crisis Centre". We have been involved with both local charities over the years and will continue to offer our support throughout 2012.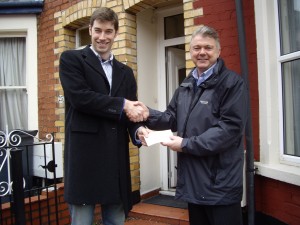 Bristol Together
Pictured outside one of the new homes they have recently purchased to renovate and sell back on the open market is Paul Harrod of Bristol Together receiving a cheque for £300 from our MD Steve Gregor. Bristol Together rely on private investment to create opportunities for the young people of Bristol who are unemployed to earn a wage and learn trade skills.
"It's all about giving them the opportunity to work – to get a wage for doing the job, but more importantly, for them to learn a trade and gain qualifications that will then give them a real chance of finding work in the outside world." Paul Howard
The Crisis Centre
This year we're supporting the Crisis Centre, one of our chosen local charities who are dedicated to helping homeless and drug-addicted people in Bristol. Pictured here with our MD, Steve Gregor, recieving a cheque for £300 is the Crisis Centre's Head of Fundraising Jonathan Swithinbank.