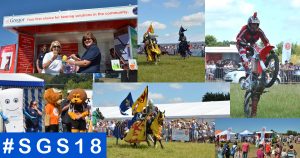 The South Gloucestershire County Show is back and this year takes place on the weekend of 4th and 5th August at Westerleigh Park and we have 2 weekend family passes to giveaway (see below).
Gregor Heating are very excited to be sponsoring the Main Arena for the fifth year running which, as the heart of the show, includes some great entertainment this year for all the family.
Prepare to be wowed by the Stampede Stunt Company that will be performing Dzhigitovka, a brand new horseback stunt and trick riding arena show.
Phill and Tracy Gibbons of Ridgeside 'Little Nippers' Display' invite you to see their fantastic dogs do what comes naturally to them!
From the skies, birds from the Wings of Wales Falconry will swoop into the Gregor Heating Main Arena.
Plus there is so much more at the rest of the show, to cater for all interests.
A Food festival will offer a range of delicious foods from around the world for the peckish. Keen for a dance? There will also be a Music festival, hosting some of the best local bands performing during the weekend on the Bandstand and Music Stage.
An Arts and Crafts Marquee will showcase South Gloucestershire creative talent and the Country Fair brings the heritage of the countryside to the show. Love the smell of burning rubber in the morning? The car and motorbike show, including Pre-War and Post War Classic cars, might hit the spot.
Pop by and see us to get a show selfie in our giant deckchair, there is colouring for the kids and special offers and advice on all heating and electrical needs for your home.
Competition:
So, with all this excitement in store, why not join 30,000 expected attendees and WIN a family ticket for two adults and up to three children for Saturday or Sunday.
All you have to do is:
Share this post on any social media channel with the hashtag #GregorSGS18
Email: [email protected] with Gregor South Glos Giveaway 2018 in the subject header, with your name, address and telephone number and preferred day to attend (Saturday or Sunday) and you will be entered in the free prize draw. Deadline is 21st July. Two winners will be drawn at random. Full terms and conditions.
By entering you are agreeing to the Terms and Conditions posted here
For all the information on the show visit the South Gloucestershire Show website:
http://www.southglosshow.co.uk/main-events/