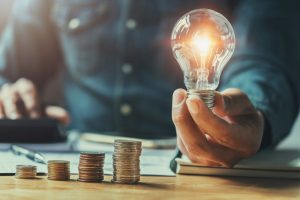 We are all agreed that it is important to save as much energy as possible, not only to save money but also to do our bit for the environment!
In particular, Landlords of HMOs (house of multiple occupation) often find that energy/electricity bills can run high.
Generally speaking, tenants of HMOs aren't as careful about saving energy than they would be if they owned their own home or unless they are paying the energy bills themselves.
What's more lots of older HMOs have poor energy ratings. Regulations that came into force in April 2018 now stipulate that all landlords are required to provide a minimum Energy Performance Certificate of at least an E or above, and all landlords are legally required to adhere to this.
The good news is there is a solution, by using energy saving devices you can help to lower your energy bills.
One of the key benefits of energy saving devices for landlords is that it puts you in control. Today's smart energy saving devices mean that you'll be able to view and change the settings of the house without needing to be present.
Using energy measuring devices also means that if needed, it is much easier and simpler to divide up bills by the different tenants when required.
Nowadays the heating temperature can be controlled from the comfort of your own home for example, you'll be able to check the heating settings of the properties you manage, and adjust if necessary. If it comes down to it, you can intervene if needed, with evidence provided.
A popular smart control we install frequently here at Gregor is the Nest Learning Thermostat, which records the heating habits of users and the changing seasonal temperatures. It also detects the absence of people and adjusts the temperature accordingly to save extra energy.
Honeywell Evohome allows you to manage and monitor the energy usage of each individual room through 'smart zoning' technology. This means you only need to heat the rooms you are using; ideal for landlords with frequently changing tenants.
Using sensors on other devices, such as outdoor lights, is an easy way to cut down electricity bills. This leaves you with the peace of mind in knowing lights won't be left on by accident and they'll automatically turn off.
We hope these tips have helped you understand why energy saving devices can make the life of landlord a lot easier!
Interested in installing energy saving devices? Get in touch with our friendly electrical team today for a chat on 0117 935 2400.