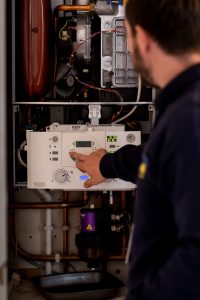 Imagine it's the holidays, relatives are coming to stay and the excitement has been building for quite a while. The snow is falling, the shopping is finally done and you can relax with a glass of bubbly or mulled wine.
As the winter weather gets colder outside you decide to crank up the heat a notch but then your boiler decides to break down on you.
You frantically ring around but there are no reputable or local gas engineers available for weeks.
You and your family face the prospect of a holiday without heating or hot water.
Not good.
This, unfortunately, is a true story from 'Which Magazine' and is perhaps the ultimate nightmare for many homeowners.
That's why taking out a boiler cover plan, such as Heat:Plan, is worth it for many, as Which magazine reports in its annual Boiler Cover feature, people buy it because it simply replaces that worry with peace of mind knowing that if anything happens with your boiler or central heating system, at any time, you are covered.
What's more, most boiler warranties, guarantees and home insurance contracts are only valid if you have an annual boiler service. So knowing you have this in place can ensure you are keeping your end of the bargain and give you complete peace of mind.
As we see it, there are three key benefits in having boiler cover:
Save money on boiler repairs
Getting an annual check could save money on repairs over the long term. A qualified Gas Safe registered boiler engineer can spot and deal with any small problems that might balloon into major problems and costs later on.
Having appliances serviced on a regular basis will also ensure they meet safety standards to help you sleep at night.
Reduce Fuel Bills
As part of any good boiler service plan, the engineer will check that the boiler is running in an efficient way. Factors such as the age of the boiler and the model will also be determined on how efficient it is, but regular maintenance and upkeep will help lower your energy bills over the long term as well as your carbon footprint.
Extend your boiler's life
Having regular checks and maintenance will, as previously mentioned, help keep your boiler efficient and safe. You should also consider that the overall maintenance schedule means your boiler should last a lot longer saving you forking out for a new boiler when you would rather pay for that holiday.
At Gregor Heating, we have four levels of cover to suit all needs, even if your boiler is outside the manufacturer's warranty period or you require full central heating system cover.
Our basic Heat:Plan Service is just £5.99 per month, making it one of the most competitive on the market.
Signing up to Heat:Plan means you become a member of the Heat:Plan Club and members can also enjoy exclusive discounts and rates on our products and services, such as Smart Heating Controls, System Filters and Power Flushes.
So hopefully there is something for everyone. Please visit our Heat:Plan FAQ page for more information and if you would like to talk to one of our customer service advisors, give them a call on 0117 958 2575 and ensure you have the best Heat:Plan cover to suit your requirements.